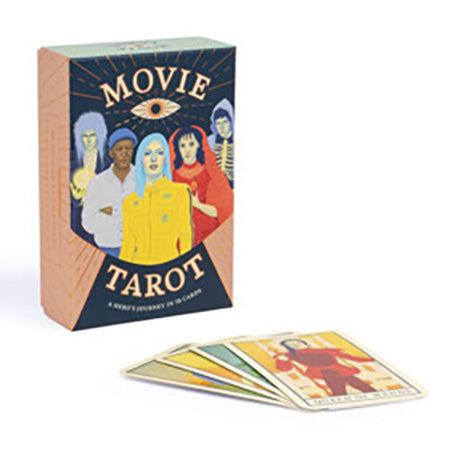 Movie Tarot: A Hero's Journey in 78 Cards
Description

Detail & Specs
by Diana McMahon Collis (Author), Natalie Foss (Illustrator)
Are you ready for your close-up? Be guided by the stars in this unique new tarot deck inspired by iconic film characters.
Each character embodies the qualities of the archetype they represent. Begin with Tom Hanks in Forrest Gump as the Fool, Morgan Freeman in Shawshank Redemption for Temperance, and Julie Andrews in The Sound of Music for the Sun, and you'll find a perfectly suited character represents every card.
Movie Tarot contains 78 cards that work as a fully functional tarot deck, plus a booklet which explains the choice of movie stars and the deeper personality traits they embody, as well as information on how to interpret the cards and conduct your own readings.
Tarot cards have had a number of uses historically, including for card games, but today they are primarily used for seeking answers to questions, often as a quest for divine guidance or inspiration. Readers of all experience levels can experience the cards' answer being given in an uncanny way, revealing something hidden but recognizable in a situation or thought process. Therein lies the significance of the Major (22) and Minor (56) Arcana cards, unearthing "secrets" buried in the deeper realms of consciousness and experience.
---
Movie Tarot: A Hero's Journey in 78 Cards
FAQ

How much is shipping?

When checking out online you will be presented various shipping options with the exact shipping charge for each option, which is automatically calculated based on your shipping address.

Do you offer exchanges?

In the case of an exchange of an online order, the customer is responsible for all shipping charges from and to the customer's location. Please contact tiffshop@tiff.net prior to sending back any products.

What is your return policy?

All online orders are FINAL SALE. We offer an exchange-only policy for all non-sale, undamaged and unused goods within 14 days of purchase with the original receipt. See full policy here.

Do you offer any discounts?

Members receive 15% online and in-person at the TIFF Shop and up to 30% off on Member Shopping Days.
Shipping Info

Shipping

From Toronto directly to your door. We ship across Canada and around the world. 

Fulfillment

We process each order by hand. Please allow for a slight delay in order fulfillment. 

International Orders

International customers are responsible for any custom charges, duties, or taxes charged to them by their country.
About us


TIFF is a not-for-profit cultural organization with a mission to transform the way people see the world through film.


Every purchase you make directly supports TIFF and helps us create a more informed and connected world through the power of film.


We're dedicated to presenting the best of international and Canadian cinema and creating transformational experiences for film lovers and creators of all ages and backgrounds.