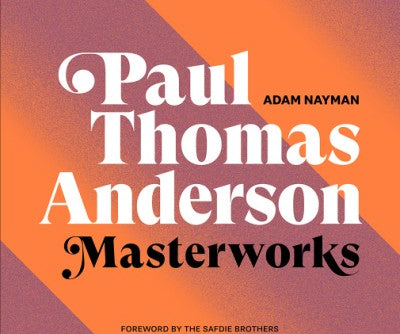 Paul Thomas Anderson: Masterworks (Hardcover)
Description

Detail & Specs
By Adam Nayman
Produced by Little White Lies
Foreword by the Safdie Brothers
An illustrated mid-career monograph exploring the 30-year creative journey of the 8-time Academy Award–nominated writer and director.

Paul Thomas Anderson has been described as "one of American film's modern masters" and "the foremost filmmaking talent of his generation." Anderson's films have received 25 Academy Award nominations, and he has worked closely with many of the most accomplished actors of our time, including Lesley Ann Manville, Julianne Moore, Daniel Day-Lewis, Joaquin Phoenix, and Philip Seymour Hoffman. In Paul Thomas Anderson: Masterworks, Anderson's entire career—from Hard Eight (1996), Boogie Nights (1997), Magnolia (1999), Punch Drunk Love (2002), There Will Be Blood (2007), The Master (2012), Inherent Vice (2014), and Phantom Thread (2017) to his music videos for Radiohead to his early short films—is examined in illustrated detail for the first time.
Anderson's influences, his style, and the recurring themes of alienation, reinvention, ambition, and destiny that course through his movies are analyzed and supplemented by firsthand interviews with Anderson's closest collaborators—including producer JoAnne Sellar, actor Vicky Krieps, and composer Jonny Greenwood—and illuminated by film stills, archival photos, original illustrations, and an appropriately psychedelic design aesthetic. Masterworks is a tribute to the dreamers, drifters, and evil dentists who populate his world.
---
Paul Thomas Anderson: Masterworks (Hardcover)
FAQ

How much is shipping?

When checking out online you will be presented various shipping options with the exact shipping charge for each option, which is automatically calculated based on your shipping address.

Do you offer exchanges?

In the case of an exchange of an online order, the customer is responsible for all shipping charges from and to the customer's location. Please contact tiffshop@tiff.net prior to sending back any products.

What is your return policy?

All online orders are FINAL SALE. We offer an exchange-only policy for all non-sale, undamaged and unused goods within 14 days of purchase with the original receipt. See full policy here.

Do you offer any discounts?

Members receive 15% online and in-person at the TIFF Shop and up to 30% off on Member Shopping Days.
Shipping Info

Shipping

From Toronto directly to your door. We ship across Canada and around the world. 

Fulfillment

We process each order by hand. Please allow for a slight delay in order fulfillment. 

International Orders

International customers are responsible for any custom charges, duties, or taxes charged to them by their country.
About us


TIFF is a not-for-profit cultural organization with a mission to transform the way people see the world through film.


Every purchase you make directly supports TIFF and helps us create a more informed and connected world through the power of film.


We're dedicated to presenting the best of international and Canadian cinema and creating transformational experiences for film lovers and creators of all ages and backgrounds.