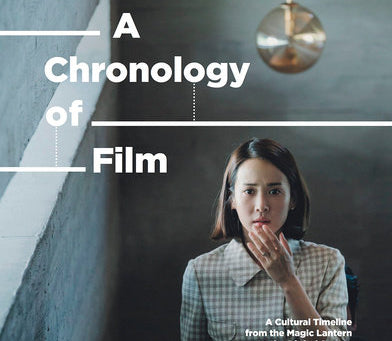 A Chronology of Film (Hardcover)
Item is in stock
Hurry! Low inventory
Item is out of stock
Item is unavailable
Description

Detail & Specs
A Cultural Timeline from the Magic Lantern to Netflix
272 pages
An entirely new and delightful perspective on the history of cinema, this illustrated volume uses timelines to trace its development from the earliest moving images to now.
A Chronology of Film presents a fresh perspective on the medium by tracing the complex links between technical innovations, social changes, and artistic interventions in the order that they occurred.
Organized around a central timeline that charts the development of film from the earliest moving images to present-day blockbusters, this volume features key films, film commentaries, and contextual information about the period in which they were produced. By revealing the social, political, and cultural environments in which these films were created, this book reveals new insights into great directors like Alfred Hitchcock, Federico Fellini, Francis Ford Coppola, Martin Scorsese, Jane Campion, Barry Jenkins, Pedro Almodo´var, and Bong Joon-ho and films such as Bonnie and Clyde, The Godfather, Moonlight, and Parasite.
The book features lavish film stills, commentaries, and lively "In Focus" features with information about the social, stylistic, technical, political, and cultural events of each period.
---
A Chronology of Film (Hardcover)
FAQ

How much is shipping?

When checking out online you will be presented various shipping options with the exact shipping charge for each option, which is automatically calculated based on your shipping address.

Do you offer exchanges?

In the case of an exchange of an online order, the customer is responsible for all shipping charges from and to the customer's location. Please contact tiffshop@tiff.net prior to sending back any products.

What is your return policy?

All online orders are FINAL SALE. We offer an exchange-only policy for all non-sale, undamaged and unused goods within 14 days of purchase with the original receipt. See full policy here.

Do you offer any discounts?

Members receive 15% online and in-person at the TIFF Shop and up to 30% off on Member Shopping Days.
Shipping Info

Shipping

From Toronto directly to your door. We ship across Canada and around the world. 

Fulfillment

We process each order by hand. Please allow for a slight delay in order fulfillment. 

International Orders

International customers are responsible for any custom charges, duties, or taxes charged to them by their country.
About us


TIFF is a not-for-profit cultural organization with a mission to transform the way people see the world through film.


Every purchase you make directly supports TIFF and helps us create a more informed and connected world through the power of film.


We're dedicated to presenting the best of international and Canadian cinema and creating transformational experiences for film lovers and creators of all ages and backgrounds.